Stoma Guards - Ostomy Belts - Ostomy Protection - Stomaplex LLC
Ostomy Protection:
With this contoured ostomy protector, there will be no pressure on your ostomy. This ostomy belt improves your confidence and allows you to wear your normal clothing with tight belts. Great for work in the office, job site, gym or swimming pool.

The Stomaplex Ostomy Belt will protect your ostomy from tight clothes, waistbands, work belts, dress belts, seatbelts, swimsuites etc.


Leak Prevention:
Stomaplex helps prevents leaks that can be caused by physical activity or spending time in the water while swimming. Since it applies direct pressure to the appliance, it extends the wear-time of the ostomy wafer and can be used as a parastomal hernia belt.


Stomaplex Stoma Guard
Each Stomaplex stoma guard is custom made to your specific stoma measurements. The guards are contoured for maximum protection and comfort while allowing the stoma's output to flow.
The Stomaplex stoma guard is available in three styles to match your lifestyle and comfort needs.


Stomaplex Ostomy Belt
The Stomaplex ostomy belt is latex free with a micro-fiber inner surface for maximum comfort. The dual strap design allow for manual adjustment of the belt tension.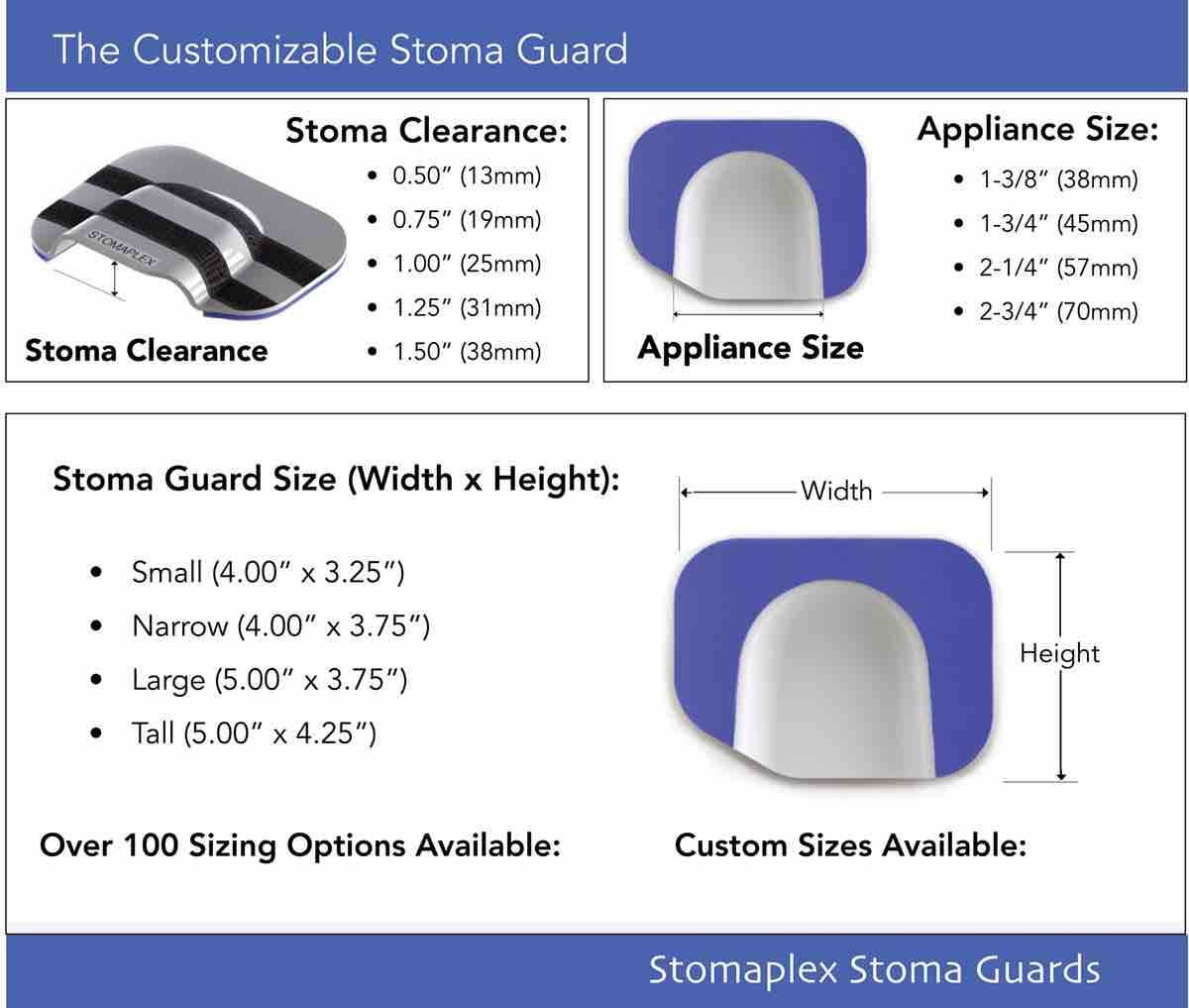 The Pure-Comfort ATX: Stoma Guard.
Watch Bob tighten his pants directly over his stoma. When you need to wear a suit or any special clothing with an ostomy, the main concern is will the stoma's flow be restricted by your clothing. With the Stomaplex ostomy belt the flow will continue under the stoma guard. This will allow you to tighten your belt on your trousers as tight as you want right over the stoma. it is important to dress properly for work in the office if you have an ostomy.
Watch Bob Tighten His Pants Directly Over His Stoma
---

The Freedom-Guard ATX: Stoma Guard.
Many of us with an ostomy are very concerned about developing a parastomal hernia especially during high activity like sports. This is not only uncomfortable but also unsightly. In addition, these parastomal hernias are not always repairable. If you are concerned, then I recommend the optional hernia ostomy belt from Stomaplex (shown in the video below). This wider belt is designed to support your abdomen with greater support than the standard Stomaplex ostomy belt. Many ostomates also choose this wider belt to hold the Stomaplex stoma guard in place when active with contact sports like hockey, roller derby, football, and soccer.
Watch Bob Snap The Waistband of His Shorts Over His Stoma
---

The Freedom-Guard GTX: Stoma Guard.
Many guys are wondering how are they going to wear their jeans and pants after ostomy surgery. It seems like the belt on a pair of pants always interferes with the stoma. There is never a good location to place the ostomy. Wherever the stoma is, the waistband on your jeans, dress pants seems to cross over the stoma or restricts the flow of output from the stoma to the bottom of the ostomy pouch. What is needed is a stoma guard that covers over the ostomy, protecting it from contact, while still allowing the stoma to flow. The Stomaplex stoma guards and ostomy belts allow this to happen. With the Stomaplex Ostomy Belt, you'll be able to tuck your shirt into your pants. With the Stomaplex ostomy belt and Guard you don't need to worry about ostomy leaks that are caused by your clothing restricting the flow.
Watch Bob Buckle The Belt Of His Pants Over His Stoma
Whether you're looking for a colostomy belt, ileostomy belt, or a urostomy belt Stomaplex has what you need to protect your ostomy.
Ostomy nurse review:

AS A CERTIFIED WOCN,
I have been searching for a product like the Stomaplex Stoma-Guards for my ostomy patients, who are in need of additional protection and support. I was very pleased to discover Stomaplex Stoma-Guards, while trying to assist one of my patients to help protect his ostomy. He had a very physically active, outdoor job, and needed to protect his stoma from accidental bumps and scratches.

The Stomaplex Stoma-Guard is a product I, and many ostomy patients, have been waiting for - finally someone designed a stoma protector that I can recommend to my patients in need.
There are many reasons why patients should consider using the Stomaplex Stoma-Guards, the most important being the safety and security they provide.

I am so excited to share the news about Stoma-Guards with my ostomy patients. I am recommending them to my patients who need, or want, some added security and support. It is so useful for people who work in various types of jobs like construction, in a factory, or as a counter worker, as well as for various activities such as sports, gardening, or cooking, and those with children or pets. Of course, the number one reason for using the Stomaplex Stoma-Guards is the ability to safely wear a seat belt. That is the ultimate in security and support.
The Stomaplex Stoma-Guards also offer a new level of protection, and help to diminish the embarrassment one may feel while wearing an ostomy appliance.

The padded design helps to protect ostomy appliances from lifting and falling off. They are soft and comfortable next to the skin.

This smooth outer surface will help to hide the bump of the stoma and pouch. An added plus, Stoma-Guards will help to muffle, or silence, the passage of flatus (gas).

The Stoma-Guard is an embarrassment reducer, without reducing the function of the stoma or the flow of the stool.

There is adequate space in the cutout design, which is customized for the size of the stoma.

The flat, wide belts will prevent shifting and rolling, a problem I have seen with other ostomy belts.
There are other potential uses for the Stomaplex Stoma-Guards. I believe they would work great for patients whose stoma is placed on their belt line. Stomas in these locations are difficult to pouch and protect. Another potential use is for parastomal hernia prevention, by helping to support the muscles and stoma together, preventing stretching and distending. It may even help hold prolapsed stomas in place.
I was excited to learn that Stomaplex is a new company with innovative products. In addition to the Stoma-Guards, the Stomaplex Equalizer is another one of their designs. The Equalizer helps to secure the application of the flange/barrier to the skin. Utilize it to apply equal pressure around the stoma-skin junction, seating the flange/barrier. This will help to prevent leakage at that critical intersection. The Equalizer is available in a variety of sizes and they are soft and flexible, allowing for contouring around even oval or irregular stomas, and they are completely washable and reusable.
I have been sharing the news about the Stoma-Guards and the Equalizer with my patients, fellow CWOCNs, and nursing staff. Thank you to Stomaplex for developing and sharing their ostomy products with us, and for helping to give patients safety, security, and confidence. The Stoma-Guard will help keep the stoma safe and the Equalizer will help to give a more secure appliance seal. Just because a person has an ostomy, they should not live in fear of an accident waiting to happen. They now can have the confidence to return to an active life and living. My advice for ostomy patients: go on, go out and enjoy life, it has been given back to you.
- Pearl R. Harmany, BSN, RN, CWOCN.

Testimonial
I recently purchased the Freedom Guard GTX Ostomy Belt and I LOVE IT! While riding in any vehicle, I was wearing a "donut" pillow (with a hole in the middle) around my stoma to protect it from my seat belt however, the pillow was always shifting under the belt and it never felt secure. Having to bring my "special" pillow into different vehicles made me feel exposed as if I was announcing myself as an ostomate. If I was driving, I spent as much time fiddling with the pillow as I did handling the steering wheel! Not good... The Freedom Guard belt stays put on my body - secure and snug - without being too tight or binding on me. I love that I can adjust the soft, comfortable straps for either a looser or tighter fit. I literally strap it on and go - and forget about it! One of the best features to me is that I don't have to remove the Freedom-Guard to empty my pouch. I simply push it up higher on my stomach and I'm good to do whatever I need to do, then lift and push it back down into place. It's really easy to use. I have also tried another "guard" type currently on the market but because it didn't allow for output like the Freedom-Guard does it created a big mess inside my pouch doubling my clean up time and this made me feel worse about having my ostomy. The Freedom-Guard however allows me to put it on - and FORGET about it! I go about my day as usual with no worries. Now that's FREEDOM!! Thanks Bob!!
A. Woods (Atlanta, GA)