Testimonials
Ostomy Belt and Stoma Guard Testimonials for Stomaplex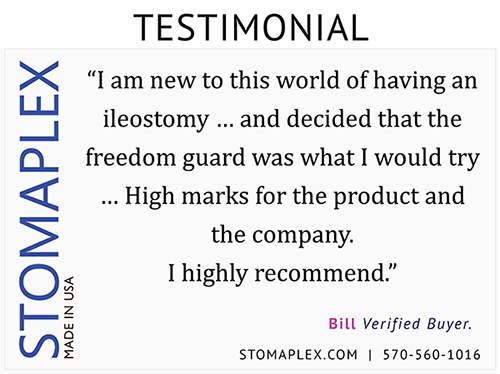 Testimonial
Bob:
I just wanted to let you know how impressed I've been with your belt - Pure-Comfort™ ATX Ostomy Belt & Stoma-Guard. I had an ileostomy in January after being diagnosed with colon cancer and having to deal with colitis the past 10 years. After the surgery I have a pretty good size stoma that looks like a downspout. I'm a bulk driver for Staples and deal with breaking down and delivering anywhere from 10-15,000 lbs worth of freight every day. I was so scared about going back to work that I wouldn't be able to do all the physical activity that I'm used to doing. During my recovery time before returning to work, I did a bunch of research and came upon your product. Despite all the testimonials, I was afraid that the product would be bulky, but I decided to give it a try anyways. All that apprehension went away after the first day of using it. I can't thank you enough about how great your product is. It's so comfortable and durable. It doesn't get in the way and I can work just as hard as I did pre-surgery. It instills a lot of confidence. Thanks again for helping what seemed like a bad situation in January so much better. I'll never work without it!
Joe (Connecticut)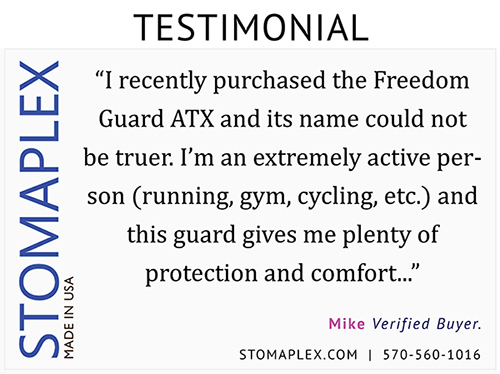 Testimonial
Bob:
I've found some of the most difficult challenges in adapting to a permanent ileostomy to be the simplest of things, like comfortably wearing normal pants or a seatbelt. The Stomaplex belt and guard system has proved extremely helpful in accomplishing those basic tasks and also in restoring my confidence and ability to return to many of my previous physical and work activities. I have tried other similar products and believe Stomaplex offers the edge in comfort, fit and low-profile appearance. The belt and guard are extremely well designed and made of top quality materials. The secure, highly-adjustable fit also keeps my appliance more firmly in place, which has helped reduce skin irritation and extend wear time. Service is excellent as well, with quick and thorough responses to questions and rapid processing and delivery of orders. I recently purchased my second Stomaplex belt and guard and have also found The Equalizer helpful in ensuring good adhesion of the flange. I would highly recommend Stomaplex products to anyone seeking to make living with an ostomy a little easier.
Shawn (Canada)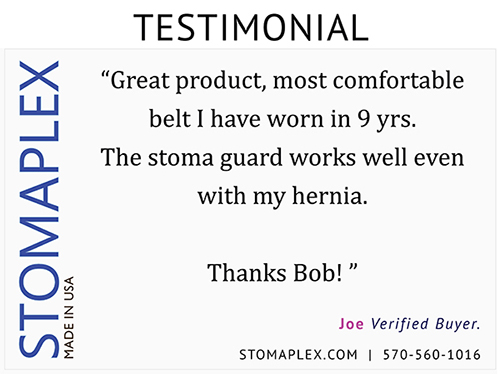 Testimonial
Bob:
I recently purchased the Freedom Guard GTX Ostomy Belt and I LOVE IT! While riding in any vehicle, I was wearing a "donut" pillow (with a hole in the middle) around my stoma to protect it from my seat belt however, the pillow was always shifting under the belt and it never felt secure. Having to bring my "special" pillow into different vehicles made me feel exposed as if I was announcing myself as an ostomate. If I was driving, I spent as much time fiddling with the pillow as I did handling the steering wheel! Not good... The Freedom Guard belt stays put on my body - secure and snug - without being too tight or binding on me. I love that I can adjust the soft, comfortable straps for either a looser or tighter fit. I literally strap it on and go - and forget about it! One of the best features to me is that I don't have to remove the Freedom-Guard to empty my pouch. I simply push it up higher on my stomach and I'm good to do whatever I need to do, then lift and push it back down into place. It's really easy to use. I have also tried another "guard" type currently on the market but because it didn't allow for output like the Freedom-Guard does it created a big mess inside my pouch doubling my clean up time and this made me feel worse about having my ostomy. The Freedom-Guard however allows me to put it on - and FORGET about it! I go about my day as usual with no worries. Now that's FREEDOM!! Thanks Bob!!
A. Woods (Atlanta, GA)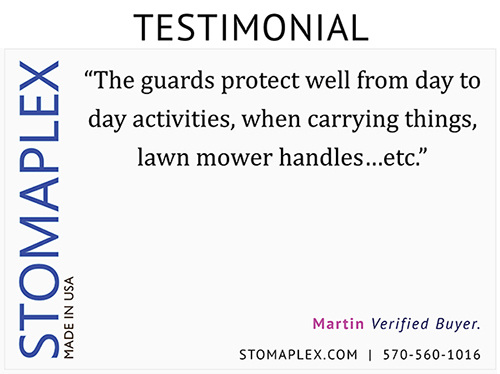 Testimonial
Bob:
So far I've only owned the Freedom-Guard ATX ostomy belt for a few days, but after wearing it for only an hour my hernia has disappeared. I pushed the hernia inside, put the guard on tight, flexed my abdomen a bit and my hernia has stayed in place since then!! I haven't worn the guard since just to see how it does, and I'm not saying everyone will have this experience, but I can say that I have had a hernia now for 1.5 years (since right after my first surgery to create my ileostomy) and at no time in those 18 months have I been able to "fix" my hernia. I can push it back in but it always popped right back out. Now it has been in place for 3 full days with no support whatsoever. And as far as the rest of the product, it came timely with great support from Bob, it works exactly as stated, the belts and guard are very high quality, packaging was great. I really have no complaints and honestly for me this is going to be a hernia maintenance tool. I don't know what will happen, but if I can push out hernia surgery indefinitely this product will have paid for itself many times over. Obviously this is probably a rare experience, but I think this product's potential value in preventing, treating, supporting hernias is amazing. My parastomal hernia has caused me a lot of stress and just to not have it for a few days has given me such a boost. My stomach looks normal again!!! Thank you Bob and Stomaplex... Unreal.
Nathan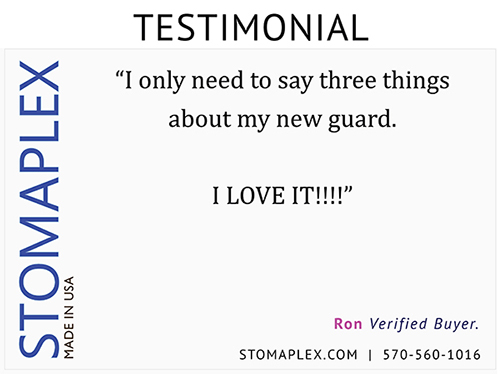 Testimonial
Bob:
I just got my ostomy in June of 2016, I'm a avid Cyclist and for my Job I'm constantly Rollin 55 gallon Drums of Oil in which weigh about 500 lbs apiece so I needed protection for my stoma. I'm here to tell this product is Awesome, it fits perfect doesn't move and it's very comfortable. Plus it gives you all the protection you need I have all ready hit my stoma with one of those barrels of oil and I am glad I was wearing my ATX Freedom Guard ostomy belt. I got the ATX Ostomy Belt Package. And I'm here to tell ya, From puttering around the house to Riding my Road Bike and working at my job it's money well spent. I want to thank you for making this Awesome Belt.
Richard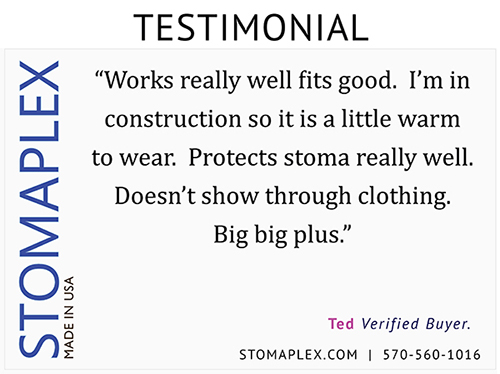 The guard has been great so far. It makes wearing normal clothes a lot easier and I am happy I bought it. I am very pleased with it and it fits good. Thorsten (Florida)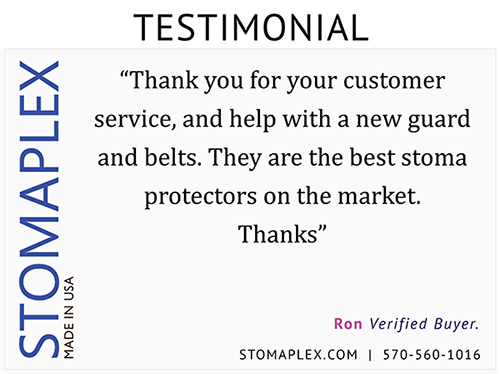 It does give a sense of comfort and security. The belt is sized right. Gene (Illinois)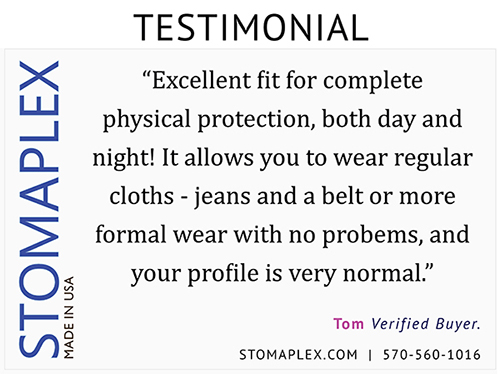 I feel very comfortable with it on and I feel very protected. I really enjoy having it and feel confident when out in public knowing that I have my stomaplex ostomy protector on. Damon (California)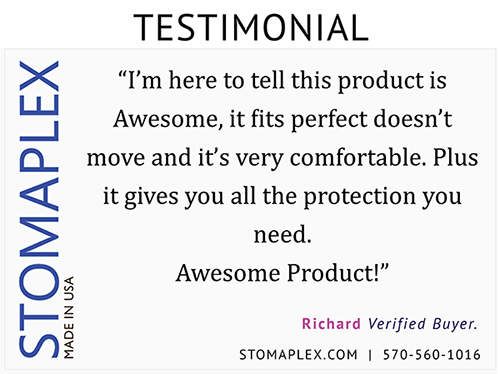 I'm very happy with the fit and trim as well as the performance of the stomaplex stoma-guard and belt. I've had no leaks due to blow out! The guard fits well, functions fine and feels good. The stomaplex stoma guard certainly enhances my comfort, protects my stoma and boosts confidence as well as self esteem! I wish that I knew about the ostomy belt guard when I first got my stoma! Thanks for shipping it so quick after the weather problems and flooding in PA! Kevin (Indiana)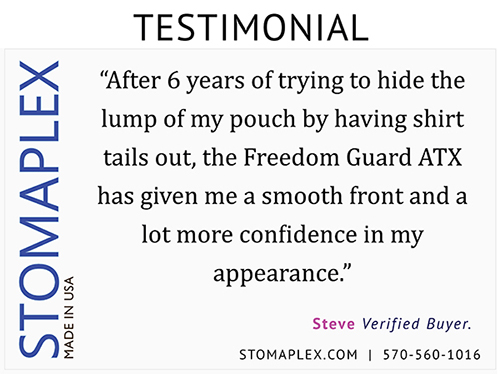 I wanted to let you know that I am very impressed with the stoma belt guard product you designed. I have only had my permanent ileostmy for a few months and am still getting used to it. The guard gives me an added confidence when I am working on a project around the house that requires lifting or constant contact with building material. I also have more confidence wearing a belt with my pants and not having to worry that I am pressing down on my stoma. It is clear you put a lot of thought in your product and I want to thank you for the relief you have brought me. Jim (New Jersey)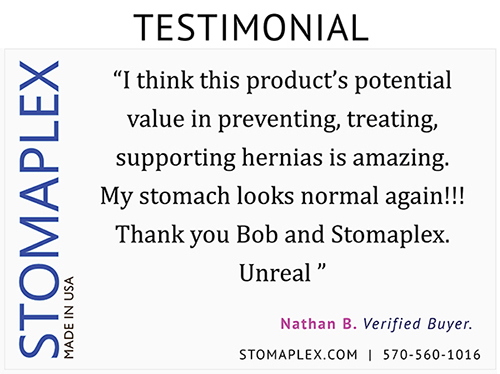 I am very pleased with the stoma guard as it has allowed me to lead a normal active life again after many months of problems with my stoma which badly knocked my confidence. I have an active lifestyle and after my permanent ileostomy surgery I suffered from embarrassing leaks from my stoma appliance particularly when I was driving my car, bending down whilst gardening and out walking or cycling. Since wearing the stoma guard I able to do all these things with confidence and the leaks are a thing of the past. The guard is comfortable to wear and very easy to put on and after a few minutes you forget you are wearing it. It has been money well spent as it has given me the confidence to lead a normal active life again. A big thank you Steve (United Kingdom)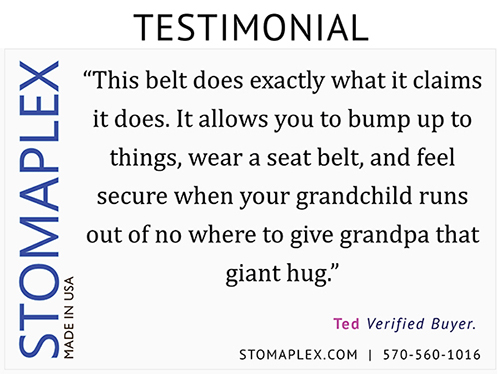 The stoma guard is a fantastic product. It does everything claimed and I certainly feel more relaxed if I'm out and about for extended periods. Protection is brilliant. I'm lucky and never had a problem but know it was an accident waiting to happen. I do feel that stoma-guard belt has given me even more confidence. Overall, it's a wonderful product that I think would benefit all Ostomates. Michael (United Kingdom)
Excellent fit for complete physical protection, both day and night! no leaks or disasters. It allows you to wear regular cloths - jeans and a belt or more formal wear with no probems, and your profile is very normal. It's a confidence builder which is really important for people who have fought medical issues. Tim
---
This belt does exactly what it claims it does. It allows you to bump up to things, wear a seat belt, and feel secure when your grandchild runs out of no where to give grandpa that giant hug. Ted
---
Hi Bob. I want to thank you for creating an amazing product. My stoma guard belt, the Pure-Comfort, provides me with great protection and comfort. I hardly know that I am wearing it and hardly noticeable. I am able to do many things without worries of injury to my stoma. Thanks again for the correct fit. Steve
---
I just got my ostomy in June of 2016, I'm a avid Cyclist and for my Job I'm constantly Rollin 55 gallon Drums of Oil in which weigh about 500 lbs apiece so I needed protection for my stoma. I'm here to tell this product is Awesome, it fits perfect doesn't move and it's very comfortable. Plus it gives you all the protection you need I have all ready hit my stoma with one of those barrels of oil and I am glad I was wearing my ATX Freedom Guard ostomy belt. I got the ATX Ostomy Belt Package. And I'm here to tell ya, From puttering around the house to Riding my Road Bike and working at my job it's money well spent. I want to thank you for making this Awesome Belt. Richard
---
To Bob, As a new ostomate, and a short person, my ostomy is the perfect height to be being constantly whacked by the edges of countertops, tables, etc. I was finding myself feeling very vulnerable when out in public. The Freedom Guard Belt has changed all of that. I find it astoundingly comfortable, and now I never need worry about being whomped resoundingly by a stranger's purse. I wasn't sure about the elastic belt and how comfortable it would be, but it really is a "put it on and forget about it" item. I can also wear my jeans, and pants with a waistband, which used to rub on my stoma to the point that I couldn't stand to have them on for more than 5 minutes. Last but not least, in the car, I no longer have to pull the lap belt out an inch or so, to stop it rubbing on my stoma. I am thrilled and delighted with this fabulous product, and thanks so much for inventing it! A very happy customer, Cheryl Harris


---
Bob, Oh my goodness Bob!! Thank you so much for the belt! I was able to show the ostomy nurses yesterday the products I purchased from you. They were impressed! This morning is the first time I'll be able to visit my students since my surgery and give them all the biggest hugs without being nervous about holding my tummy and protecting my stoma! Bless you and your business! Most grateful to you! Vickie (Iowa)
---
In spite of the wonderful testimonials you have received, I feel compelled to add one more. For anyone who has an "outie" stoma (as I do) right on my belt line, the Guard Belt covers, protects and smooths out my body profile. It's so comfortable I hardly know I am wearing it. The Guard Belt provides the ultimate in protection, my clothes fit better and I never have to worry about. I just enjoy the overall security the Stomaplex Guard gives me. If anyone is concerned about this accessory for their stoma appliance I can only say "try it, you'll love it!" Thanks again for inventing such a great product that really does improve the quality of my life, Mike Lord (Vancouver, BC Canada)
---
Got my Freedom Guard ostomy belt and belt yesterday tried it on to verify fit. Today I went to work fully dressed with a belt and shirt tucked in for the first time since my surgery "March 12th". Wore it all day. Last week I was a sloppy President walking in with Sweats and shirt out. My wife was not happy with my appearance. I do a lot of ATV riding at my partners ranch in Texas "cattle and horses". In the fall I plan on Scuba Diving in Bermuda and the Stoma guard is going to make it all happen. You saved me from trying to make something that I would never have the time or ability to create! Thank you so much! Gary (Las Vegas, NV).
---
Bob, I received my order and I am liking it a lot. I have not had a chance to golf with it. So, that is still not answered. However, practice swings show no sign of hindrance. What I do feel right away is the bag feels more secure and the belt is much more comfortable than the 1" belts sold by the ostomy companies. Thanks for developing and selling this product. Michael (New York)
---
Your guard and belt has changed my mom's life. She had not been able to hardly leave the house due to not being able to wear her normal clothes. Thank you. I do appreciate it greatly. Mechelle (KY)
---
Nice product. The belt is working well for me and provides the confidence to get active once again. Thanks John (MN)
---
I play golf 3 time a week in the summer. The guard and belt makes sure when I turn I don't tear of my pouch. Thanks again Tom (OK)
---
Hi Bob just to let you know that I have received my guard and ostomy belt and I put it on straight away and it feels really really great I can't begin to explain the feeling it gives me also I am looking forward to wearing my normal clothes again. I will certainly spread the word over on this side of the pond. Once again cheers . Patrick (United Kingdom)
---
As a C-7 quadriplegic, I am at high risk for getting pressure sores, especially on my bottom. Due to this risk, I generally tend to sleep on somewhere in between my sides/stomach. However when I would do this on my right side (the side where my ostomy is), I noticed that I got frequent urinary tract infections (UTIs). Many of these UTIs required prescription antibiotics to treat me. Also some were so severe that I needed to be hospitalized. Over time I realized that my UTIs were being caused by the fact that when I slept on my right side the weight of my body was constricting my stoma, and thus preventing the flow of urine from my bladder. This enabled bacteria to increase inside my bladder, often resulting a UTI. Your Stomaplex guard/belt products shield my stoma from being pressed upon and allow free flow of urine from my body. I credit your products (along with drinking more water) with saving my career (I work full-time). Prior to using your products, I was seriously considering retiring from work, or taking a leave of absence due to the frequency and severity of my UTIs which required me to take many sick days, make frequent visits to my doctor, and even be hospitalized multiple times (including several stays in the hospital's Intensive Care Unit). After I began to use your product, I began to immediately get far fewer and less severe UTIs. I cannot thank you enough!! Ed (Virginia)
---
I received my guard and today. Very comfortable, can finally wear pants and a belt again. Thank You for making such a great product. Look forward to buying more products as I need them in the future. Brian (Canada)
---
I greatly appreciate your engineering and customer service. Dawn (Georgia)
---
I have been extremely pleased with the stoma guard. My interest in the stoma guard and ostomy belt started when I advanced in karate to a brown belt a few months after my permanent ileostomy was formed. I started looking for a product that would help me feel secure at this level. I researched and discussed the options with many active ostomates but was not pleased with the choices. Often for a slighter woman, the other products are too bulky and do not allow our bodies to bend where they need to. I am 5' 6" and 140 pounds. I contacted stomaplex and learned from inventor Bob about the Guard. I am thrilled with the protection and security I get from it. I use the guard and ostomy belt for every karate class. Honestly I never have to think about my stoma while in class anymore -- instead I can concentrate on the class. It has been liberating and wonderful. Thank you!!! -- Michelle Mood
---
The stoma guard has been great so far. It makes wearing normal clothes a lot easier and I am happy I bought it. I am very pleased with it and it fits good. Thorsten (Florida)
---
Bob, I have had Crohns Disease for many years. In December 2010 I had to have an ostomy due to complications from my disease. My stoma happened to be right where seat belts are when buckled. I found the stoma guards from STOMAPLEX while doing a web search. I called and talked to Bob and decided to order the Freedom-Guard Stoma Guard. I had all kinds of problems with my appliances from leaks to falling off to bumping my stoma. After I ordered my guard my life changed dramatically over night. It is so easy to apply the guard and it protects my stoma so well that I can do things that I thought I would not ever do again. It holds the wafer on 3 sides and I do not have to worry while I do the things that I enjoy doing. One of those things is that I can ride my snowmobile again without worrying about any leak from my bag or any pain when going down a bumpy trail. I also work on cars as a hobby. I can now bump my stoma and I totally forget I have an ostomy. This guard belt has totally changed my life. Thanks Bob. Bernie (Michigan)
---
I really like the stoma guard. It is extremely comfortable and i have not have my usual problems with leakage. Darlene (Connecticut)
---
Bob… It is the wonderful belt you have sent me. Thank you so much for all you have done for me with your product, it is wonderful, the new petite size and lower profile makes me feel less self conscience about my appliance, and more secure that I am not going to harm my little stoma with a seat belt or in a crowd by some one getting overly anxious and running over me. Best of all I should be able to enjoy myself more at Disney this summer with my husband and teenage daughters riding the rides and not worrying about what may happen when I get thrown into the bars on the rides. I will certainly be passing the word on about your product. God Bless you! Natasha (Kansas)
---
Hello, The belt was actually purchased for my husband. I am the research and go to person for his supplies as this is all very new to us. Until we purchased your product, wearing pants was uncomfortable for him. His stoma is right on his waistband and we couldn't find pants that didn't bother him. He hasn't worn it too often as he is still recovering, but when he does he is delighted. Thank you, Therese (Illinois)
---
Hi Robert (Bob), I just wanted to thank you for the Active Life Guard ostomy belt from Stomaplex--I am going out of the house more now and this helps me feel more protected and less vulnerable! I will be going back and forth to/from the Hospital a Lot the next 6 months+ (chemo colon cancer) and this is already making a positive difference in my life (helping me to feel like I am living instead of just "existing") Thanks so much for creating/developing this great product and wishing you and yours all the best:) Michael (New York)
---
Pure-Comfort ATX: Stomaplex Belt. Ostomy guard for men.
Pure-Comfort ATX: Stomaplex Ostomy Support
Wear your belt and guard with confidence. Having an ostomy just got easier.
Freedom-Guard GTX: Ostomy Clothing
Freedom-Guard GTX: ostomy clothing.
Freedom-Guard ATX: Stomaplex Parastomal Hernia Support Belt for Men
Stomaplex Parastomal Hernia Support Belt to help prevent hernias.
Freedom-Guard ATX: Guard with Stomaplex Parastomal Hernia Support Belt for Women